Draco Tera Enterprise
Modular KVM matrix switch with 48 - 576 ports

Modular non-blocking architecture
Delay-free HD & 4K UHD switching
For mission-critical environments
Hot-plug cards and redundant PSUs
48, 80, 160, 288 or 576 ports
Link multiple chassis in a Matrix Grid
Integrated management system
Supports KVM, USB, SDI, Audio
Go beyond KVM with the IHSE Draco Tera Enterprise. This is the perfect high-performance modular routing system for complete in-band signal distribution of HD/UHD video, audio and data.

The Draco Tera Enterprise has been designed specifically for secure mission-critical environments with performance, flexibility and scalability as standard. It is available with CATx or Fibre interfaces supporting up to 576 non-blocking ports and the switches have a universal I/O option enabling 3G-SDI, USB 3.0 and other multi-Gb signals to be transparently routed by the Tera system in conjunction with KVM.

The system enables you to switch SDI amongst playout monitors in edit suites as well as accessing multiple high-speed USB 3.0 measurement interfaces in the lab. Universal I/O normally utilises 3 Gb fibre SFP modules, with coax options also available for SDI.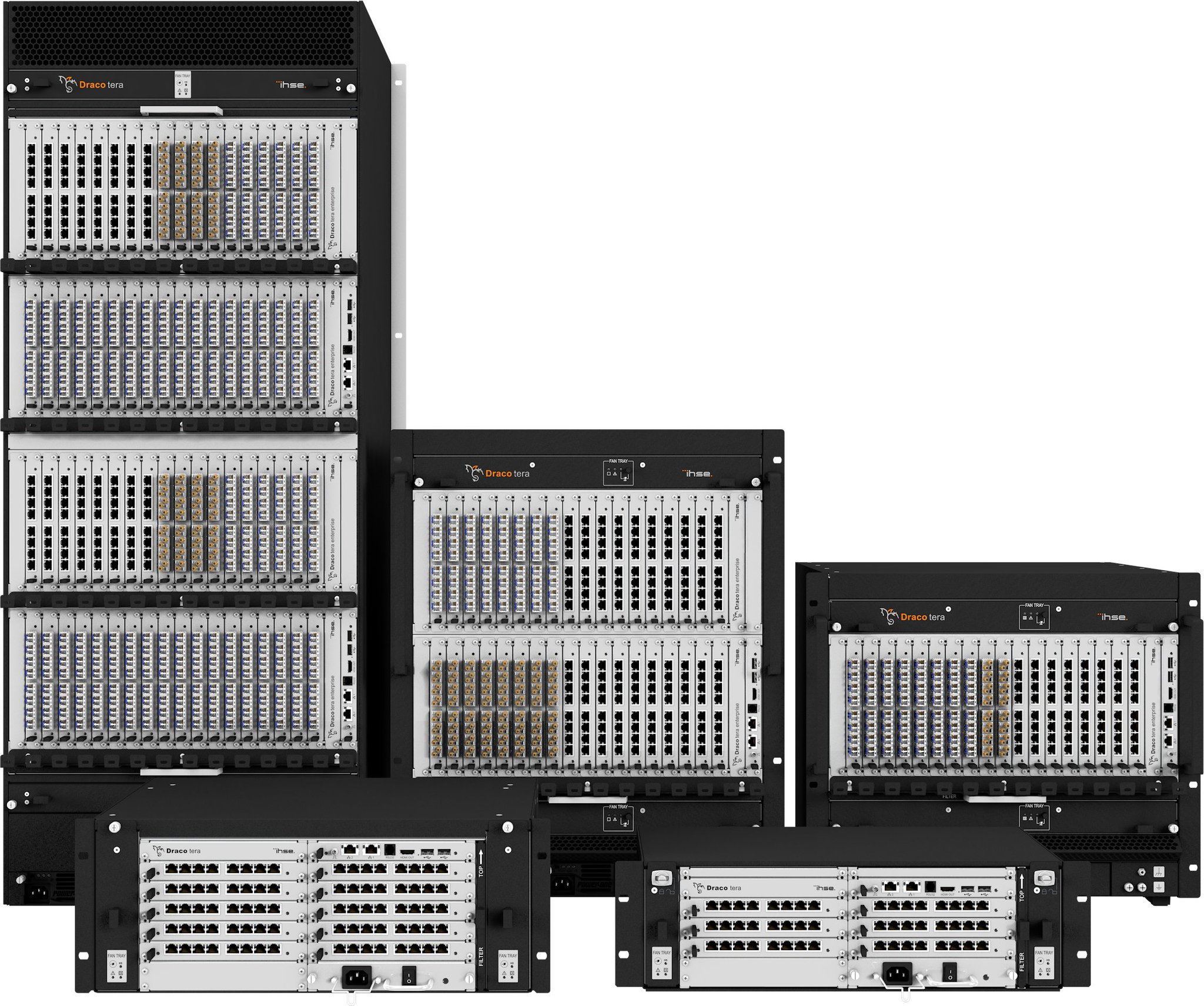 For all mission-critical installations, Draco Tera switches work perfectly. The multi-level redundancy concept offers the highest level of reliability for round-the-clock operations and in addition, each chassis supports fully redundant power and hot-swappable modules for full service and field upgrades with no interruption to the signal flow.

Each port on the Draco Tera Enterprise must be connected to an IHSE digital KVM extender module. Extenders are available to suit nearly all combinations of common video and data interfaces.

At a glance features
Scalable & flexible architecture
Flex-Port technology for dynamic port assignment (no need to refer to port numbers)
Mix & Match (fibre ports switchable to CATx ports and vice-versa)
Matrix Grid feature automates multi-matrix connections through tie lines
Java-based Tera Tool for remote configuration & maintenance
Multi-signal support: KVM, USB 2.0/3.0, SDI (SD/HD/3G)
Remote extenders can be updated through the matrix
Complete API for integration with media controllers
Multi-Screen Control (switching via mouse movement)
SNMP & Syslog monitoring
Redundant power supply(s)
Support of full or part matrix redundancy
Intelligent management system replicates system settings across all components
Compatible with Draco Tera Compact
Downloads
Draco Tera Enterprise
Matrix Switch Documentation
Draco Tera Enterprise
Matrix Switch Technology

Product Catalogue

Talk to us about your project on:
020 8099 3089
or email:
sales@scene-double.co.uk