SDBX
Extend High-Resolution Video with USB or PS/2 up to 300m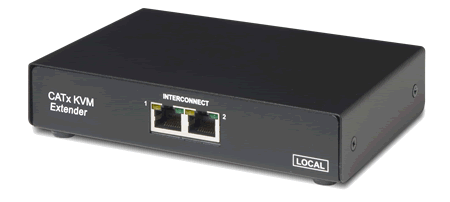 High resolution VGA video support
PS2 / USB 2.0 (Keyboard & Mouse)
Fully integrated skew compensation
Single, Dual and Quad-Head video
Compact chassis
Rack Mountable
Flash upgradeable
The SDBX is the bigger brother of the SD-VUE and is a feature-rich analogue extender enabling high-resolution VGA signals (at resolutions up to 1920 x 1200), PS2/USB keyboard and mouse, stereo audio and serial port signals to be communicated much further than with ordinary KVM cabling – up to 300m over CATx cables.

Excellent performance over extended cable lengths is assured through fully adjustable video equalisation and skew compensation applied through hotkeys. USB models support up to four HID devices; including keyboards, mice, barcode scanners, joysticks and even some touch screens. Support for high quality analogue audio and serial ports is available as an option.

The SDBX is easy to install and configure and with a small chassis footprint it is perfect for those who require a robust, scalable and feature-rich analogue extender.

At a glance features
USB (HID) or PS/2 extension
Supports high resolution VGA video
Emulated VESA Display Data Channel
Local video output on all video channels
Multi-head video support options
Transparent serial port option
Bi-directional stereo audio support option
Local Unit powered by CPU
External PSU Overvoltage Protection
Status indicator LEDs and surge protection on each RJ45 port
Downloads

Talk to us about your project on:
020 8099 3089
or email:
sales@scene-double.co.uk