KVM Explained
---
- What is KVM
- Proprietary KVM vs KVMoIP
- KVM Extenders
- KVM Matrix Switches
- Modular KVM Systems
- Introducing IHSE Draco KVM
- Draco KVM video

What is KVM?
KVM stands for Keyboard, Video and Mouse, referring to the familiar workplace computer input and output devices.

KVM technology provides driverless connectivity solutions that extend, convert and switch keyboard, video (analogue and digital) and mouse signals, together with audio, USB and SDI video. This allows sharing of peripherals as well as resources.

KVM Extenders are crucial for the extension of computer signals over distances that exceed regular cable lengths of more than a few meters.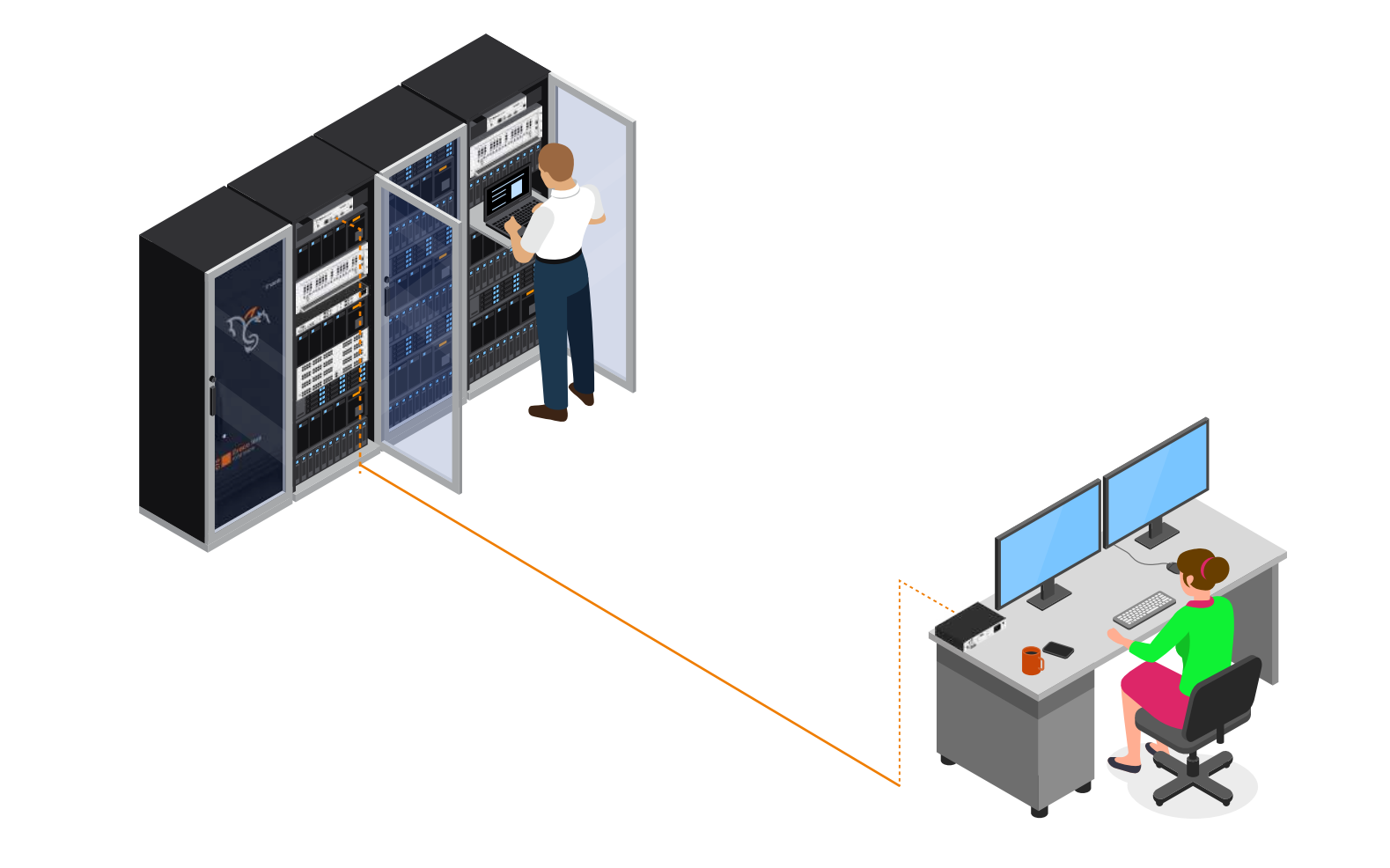 The reason being, that when cables exceed a certain distance, the signal quality suffers immensely, resulting in visual artefacts, overall distortion, and delay of the signal.

KVM extenders enable users to extend the distances between computers and user workstations (with keyboards, video displays and mice) to distances of up to several kilometers - without compromising signal quality and fullaccess (or regulated access) for the users to remotely located computers.

Therefore, the use of extenders is indispensable for achieving the best possible signal quality and maximum performance when remotely locating a computer.

Long distances are bridged by CatX (copper), fibre, mixed cabling or over IP, depending on requirements and applications.

Reasons for remotely locating a computer or a workstation could be anything from increasing the security and safety for the personnel and the computers, to enhancing workflows and ergonomics - the extension of signals can be the best solution in many use cases going beyond the mere displacement of a CPU or the workstation.

Furthermore, the use of extenders and KVM systems can help save a lot of money. Be it by improving workflows and collaboration of the personnel or the safe placement of valuable computers and thereby effectively reducing the median time to repair.
Types of KVM : Proprietary vs IP
As KVM specialists, Scene Double currently offers two types of KVM solutions: Proprietary High Performance KVM from IHSE, and world-class KVM over IP technology from KVM-TEC.

Both systems alllow for point to point and/or switched applications.
Overview | Proprietary KVM (The IHSE Solution) vs KVM over IP (The KVM-TEC Solution)

Proprietary KVM
Our Proprietary KVM technology extends keyboard, video, and mouse (kvm) signals from any computer or server over CATx (RJ45 - Shielded Cat5e or better - upto 140m), Fibre Optic (MM/SM LC - upto 10km) or mixed cabling.

This allows for connections to all required end-points, such as the interconnects between the Local CPU unit, Matrix Switch (if required) and the Remote Console unit. These types of cable are generally available within most modern building layouts.

For Optimisation, Connectivity, Redundancy, Reliability, Security - Isolation, Cost & Energy Savings

KVM over IP
Our KVM over IP access technology extends keyboard, video, and mouse (KVM) signals from any computer or server over TCP/IP via a LAN, WAN, or Internet connection.

With this KVM over IP (KVMoIP) connection, users can remotely access and control any number of servers simultaneously from anywhere within or outside of the organization.

KVM over IP delivers better content faster for a range of applications, including broadcasting and control rooms.

For Flexibility, Security (via a dedicated network), Cost & Energy Savings.
Read More | KVM over IP
KVM Extenders
KVM Extenders enable the operation of computers from a remotely located workstation. This makes it easy to relocate critical computers and servers in secure, environmentally controlled environments to protect them from heat, dirt, moisture and unauthorized access. Inherent system resilience and redundancy enhances reliability and helps to protect from cyber-attacks, data and material leakage.

Removing noisy, bulky, heat-producing computers from the operator workplace also creates a more pleasant, less-cluttered working environment. Users desks simply require basic peripheral devices: monitors, keyboards and pointing devices.

Applicable to all markets, and adaptable to your specific needs to help build your ideal solution. KVM extenders provide great benefits in applications like data centers, hospitals, financial trading floors, post-production suites and in space-restricted environments on ships or ATC towers.

Our KVM solutions extend the distance between the computer and peripheral devices (keyboard, monitor (video) and mouse). This allows users to select between different source devices (such as CPUs, Servers, Cameras (SDI), Media Players, Satellite receivers etc ...) in order to create more efficient workflow and ergonomic, space-saving working areas, which are key benefits gained through the use of KVM solutions.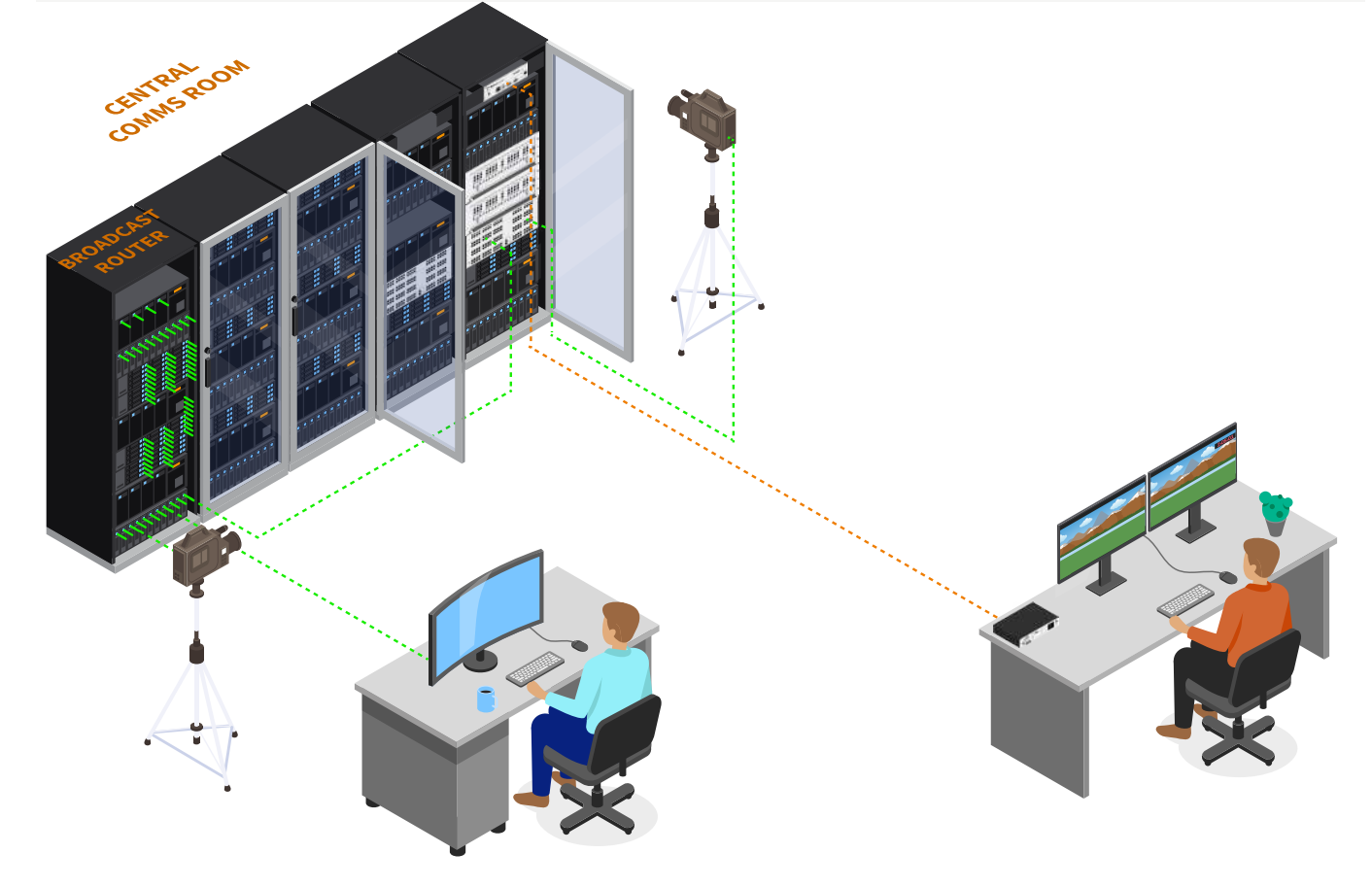 KVM Matrix Switches
A single KVM switch can connect a large number of users to many source computers. Several sources can be accessed, switched and shared instantly by users. Any connected user console, consisting of keyboard, mouse, monitor or other peripherals, can access any computer within the network.

Expensive equipment and software licenses can be shared between multiple users; all accessing the same computers from their individual workstations in real-time. In addition, several matrix switches can be connected to each other acting as one homogeneous system.

Our KVM matrix switches enable access to, and management of, almost any size of computer installation. The system supports all relevant computer video formats up to 4K/5K, as well as SDI and USB. For higher resolutions, individual lines can be synchronized together.

KVM Matrix Switches include comprehensive features such as Multi-Screen Control and cross-conversion between AV signals and transmission media (CatX and fibre).

Secure IP interfaces provide additional types of access, providing remote access with seamless, location independent IP access via a browser or client. The KVM matrix system can be used with virtual desktop infrastructure connection to Virtual Machines using protocols like RDP, Remote FX, PCoverIP or HTML5 connections. For maximum security, the core matrix is completely shielded from the TCP/IP network.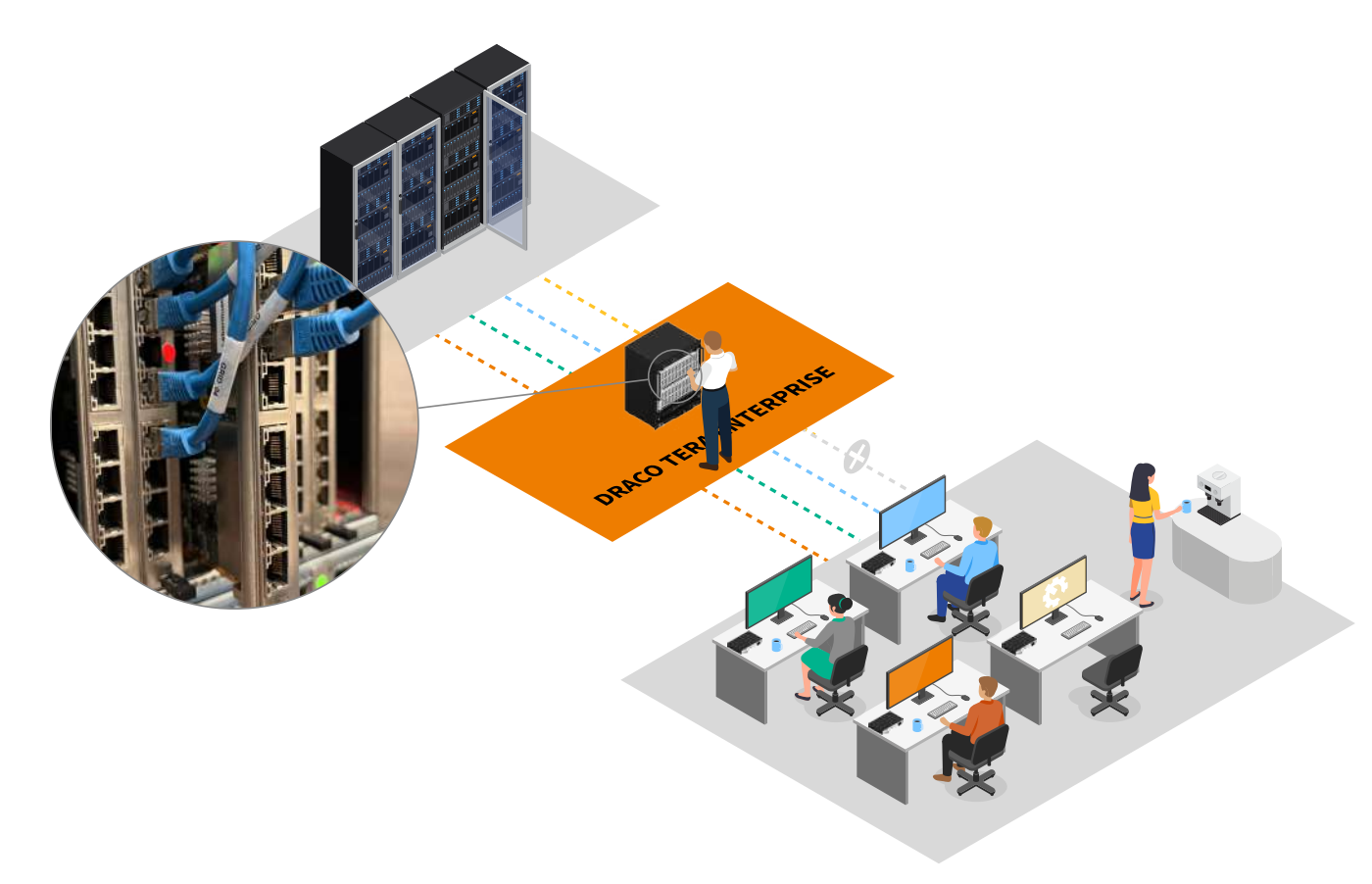 Modular KVM Systems
Individual KVM modules may be integrated together to meet specific requirements. Enabling tailor-made solutions for every individual project. Standardized modules facilitate installation in common 19-inch chassis or rack cabinets found in server rooms.
Modularity offers a high level of investment security. Whenever new video standards are added or additional interfaces are required, the system can easily be expanded with additional modules. This saves time-consuming and cost-intensive system replacements.

All KVM extenders can be fully customized to best match the project in hand. The modular construction enables our customers to choose the perfect features and functions from a wide and expanding range of modules. This modularity is key for performance, sustainability, and cost efficiency.
KVM enhances the workplace | KVM increases IT security | KVM saves costs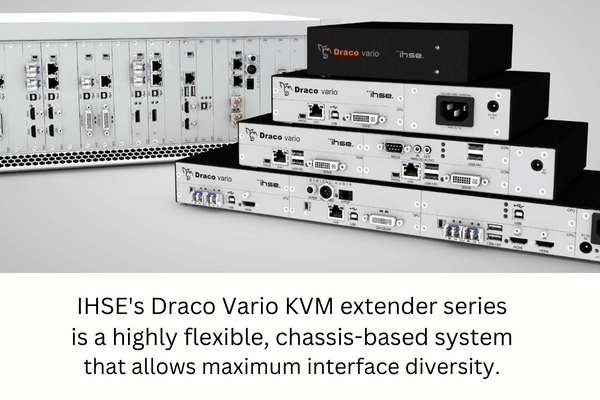 IHSE Draco KVM Extenders and Matrix Switches
Draco is the brand name of digital KVM extenders and matrix switches from IHSE - one of the world's leading designers and manufacturers of KVM technology. The current range was developed in response to market forces - an industry shift to larger devices, higher image resolution and greater bandwidth - and they have been an unqualified success in every market sector in which they are used.

The Draco vario KVM extender series is a highly flexible, chassis-based system that allows maximum interface diversity. A variety of main modules accommodates all commonly available computer video standards and resolutions, combined with USB for keyboards and mice. Add-on modules provide additional peripheral signal support on demand (audio, USB, RS232).

Designed and made in Germany to meet 24/7, 365 days per year continuous operational requirements, Draco vario extenders are the ideal partner in mission-critical environments in which operational uptime is paramount. Optional system health monitoring via SNMP/SYSLOG supports pre-emptive recognition and prevention of failures.

The modular concept with different size chassis options allows assemblies to be fitted and re-fitted as required and on demand. The slide-in chassis' provide hot-swap and hot expansion of individual modules with no downtime. Up to six dual head KVM extenders fit into just 1 RU.

All Draco vario chassis are available with power redundancy options for a minimum of downtime. KVM modules offer optional link redundancy with glitch-free manual or automatic fail-over.
Watch our 'Draco Explained' video to learn more ...
Our full 'IHSE Draco Explained' video is also available as a short series.
Please click any image to view.
Contact us If you would like more information about the Draco range of KVM extenders and switches.