Draco Compact
Extend DVI-D, DVI-I, USB, Audio and RS-232 over CATx or Fibre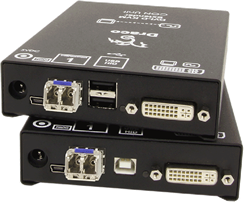 Compact size
Up to 1920 x 1200 or 2K video
Digital or analogue audio
DVI-D, DVI-I, USB, Audio, RS-232
Optional Dual-Head
Easy DDC transmission
For businesses that demand high quality video with virtually zero latency, IHSE's Draco Compact KVM extender is the perfect fit for high-demand, secure environments including control rooms, broadcasting and post-production, visual media and scientific imaging.

The space-saving chassis of the Compact is available in six standard versions which allow the extension of high-resolution video signals as well as USB 2.0, USB-HID, serial, analogue and digital audio.

A 1:1 pixel mapping ratio ensures authentic display of the source video, which combined with IHSE's Intelligent Video Encoding technology ensures a crystal-clear visual display. Maximum cable distance for copper CATx is 140m, and upto 10km over fibre without degradation.

It's easy to install with all the connectors on the same side, and is ideal for locations where space is at a premium. The Compact is a cost-effective solution for those who don't require the full flexibility and modularity of the Draco Vario range (with which it is fully compatible).

Designed to be integrated within Draco Tera matrix solutions.

At a glance features
Excellent image quality at all resolutions
Single- and Dual-Head device models available
Audio and transparent USB options available
Single-sided connectivity
19" rack mount kit available – up to four units fit in 1RU
External power supply or optional tray-mounted power supply for one RU frame
Fully compatible with many Draco Vario extender models
Downloads
Draco Compact
KVM Extender Documentation

Product Catalogue

Talk to us about your project on:
020 8099 3089
or email:
sales@scene-double.co.uk