Draco Tera Flex
KVM matrix switch with 16 - 160 Flex Ports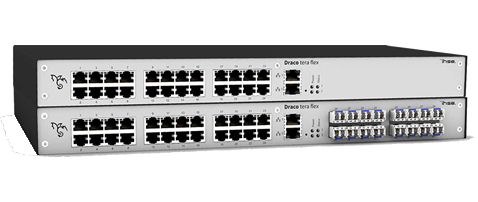 For small to mid-sized KVM applications
16 to 160 Flex-Ports
Instant 2K & 4K switching
Capability for 1G and 3G technology
Critical application redundancy
Compact size of 1, 2 or 4RU
Link multiple chassis in a Matrix Grid
Integrated management system
Simple to set-up & configure
The new Draco Tera Flex matrix switch delivers an even higher level of performance, with enhanced flexibility, modularity, scalability and functionality.

The Draco Tera Flex is available in three housing variants (1, 2 and 4 U) with between 16 and 160 ports. All ports can be used flexibly as inputs or outputs. 8-port expansion modules can be mixed between Cat and fiber optic types, with either 1 Gbit/s or 3 Gbit/s bandwidth; thus almost all customer-specific requirements can be achieved. The Draco tera flex is equipped with integrated power supply and redundant network connection as standard.

With its capability to facilitate 1G and 3G technology within a single frame as well as CatX and Fibre interfaces, it supports modern applications with a mix of 2K and 4K in very economic way. Custom design chassis even allow for future field upgradability scaling a system from 40-Port to 80-Port or even 160-Port completely non-blocking.

Fibre-optic ports allows data transfer up to 10km either side of the matrix, perfect for inter-building connections and each computer can be quickly assessed from any position, via keyboard, on-screen display (OSD), the Draco Tera Tool or an ethernet or serial interface.

Each port on the Draco Tera Flex must be connected to an IHSE digital KVM extender module. Extenders are available to suit nearly all combinations of common video and data interfaces.

By simply connecting the extender to the chassis, the internal control software will recognize and auto-configure the port as a CPU or console device. This Flex-Port technology provides a huge time saving for system installers who normally have to pre-configure ports to specific I/O requirements.

The system supports also instant switching technology. With incredible speed, switching between sources is glitch-free and instantaneous thus reducing eye strain and annoying video tearing found with other systems.

Where centralized switching of KVM is necessary, the Draco Tera Flex is the perfect KVM solution. It is especially suited for factory floor automation control systems, production studios, OB Vans, and command and control environments.

At a glance features
Compact size 1,2 or 4RU
Port connections for CATx and Fibre
Flex-Port technology for dynamic port assignment (no need to refer to port numbers)
Mix & Match (fibre ports switchable to CATx ports and vice-versa)
Matrix Grid feature automates multi-matrix connections through tie lines
Java-based Tera Tool for remote configuration& maintenance
Multi-signal support: KVM, USB 2.0/3.0, SDI (SD/HD/3G)
Remote extenders can be updated through the matrix
Complete API for integration with media controllers
Multi-Screen Control feature (switching via mouse movement)
SNMP & Syslog monitoring
Redundant power supply
Support of full or part matrix redundancy
Intelligent management system replicates system settings across all components
Compatible with Draco Tera Enterprise
INDUSTRY BROCHURE

KVM in Esports & Gaming
The world's best teams play games on consoles tens of meters away from fast and powerful host computers.
KVM extenders provide the interactive interconnection allowing gamers to play the game; without slowing the action or hindering their skill.
Downloads
Draco Tera Flex
Matrix Switch Documentation

Product Catalogue

Talk to us about your project on:
020 8099 3089
or email:
sales@scene-double.co.uk