Draco CPU Switch
Switch Between Eight VGA Computers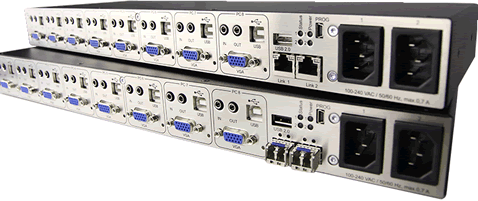 Works with Draco Tera matrix switches
Perfect for access to VGA servers
8-input, 1-output KVM switch
Save on switch ports & extenders
Instant switching via keyboard hotkeys
Replacing eight traditional KVM extenders, IHSE's Draco CPU Switch allows up to eight VGA CPU sources to be accessed and switched though a single integrated Draco Extender. Further connected to a user workstation, the operator can instantly access any one of the connected sources.

Operating as an 8-input, single-output KVM switch, both models – CATx and Fibre – are exceptionally cost-effective and dramatically simplify installations for users such as broadcasters or control and data centres where there is a need to maintain and share legacy analogue sources.

Thanks to inbuilt, high-efficiency conversion algorithms, each of the input ports has a scaling function that delivers sharp, crystal clear images at 1920 x 1200 @ 60 Hz (or Full HD/2K up to 2048 x 1152).

At a glance features
Includes eight input ports for VGA, USB and audio
Output connections to connect to a Draco console unit or Tera matrix switch port
Integrated scaler
Redundant power supply
Rack-mountable in 1 RU
Switching via hotkey commands
Local USB port selectable to any input source
Perfect for cost-effective management of legacy VGA sources
Centralised management of host computers integrated to digital KVM matrix systems
Downloads
Draco CPU Switch
Matrix Switch Documentation

Product Catalogue

Talk to us about your project on:
020 8099 3089
or email:
sales@scene-double.co.uk