KVM-TEC EasyLine
Extend or Switch DVI-D Full HD, USB 2.0 and Audio over IP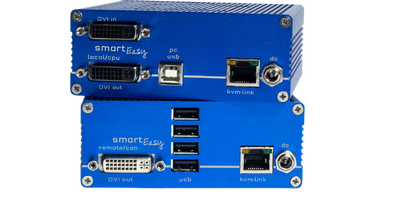 Extend over IP
DVI-D Full HD 1920 x 1200 @ 60Hz
Single or Dual-Head
CATx or Fibre links
Low Latency <1.38ms
Embedded Audio
USB 2.0 / Analogue Audio options
Point-to-point or Switched
KVM-TEC's EasyLine - An entry level professional FullHD KVM Extender for when extending over IP is on the only option.

Highly optimized KVM over IP Extenders for distances up to 10Km with a resolution of 1920x1200@60Hz

The KVM-TEC EasyLine KVM over IP Extender range not only allows you to extend Point-to-Point, you also have the option to connect and Switch up to 56 different endpoints without the need for any separate switching control system. How neat is that!

How far can I extend?
Over Copper (CAT5e/6/7) you can easily extend up to 150m.
Over Fibre you can take this up to 10Km!

The KVM-TEC EasyLine KVM over IP Extender range offers some really neat features such as :

All in one Go
Create a Switching system over IP for up to 56 endpoints. No separate switching control system required.

Want to switch sources ....
No switch? No problem! Bridging for easy switching without a switch!

FrontBridging
Where two Single-Head Local KVM Extenders are bridged to one Dual-Head Remote KVM Extender allowing one or two monitors to simultaneously display both PC's contents.

BackBridging
This is where it is possible to share from one Dual-Head Local KVM Extender to two Single-Head Remote KVM Extenders for applications where monitoring at different locations is required.

EasyCrossMove
If you have a FrontBridging setup for example, using a special software feature both PCs can be operated with a single mouse and keyboard at the Remote (user) end. If content from both PCs is displayed on the monitors, you can easily take control of the other computer by simply dragging the mouse from one screen to the other. This is such a cool feature!

The KVM-TEC EasyLine Range ...
Currently the EasyLine range of KVMoverIP Extenders offers two professional solutions:

SmartEasy and MasterEasy.

Depending on your requirements, the SmartEasy & MasterEasy solutions are perfect for setting up your first KVMoverIP Extender system, each available with optional upgrades to provide an enhanced and flexible set of features.
At a glance features
Extend over IP
DVI-D FullHD 1920 x 1200 @ 60Hz
Single or Dual-Head
Copper (CATx) or Fibre link interfaces
Low latency <1.30ms

Upgrade options:
USB 2.0 / Analogue Audio


Point-to-Point or Switched
Ultra-slim housing
Multiple mounting solutions
Firmware flash upgrade without cable
Video Sharing / USB Sharing / Multi-Head
Single link cable to transmit Video & USB 2.0
2 Year Warranty. 5 Year optional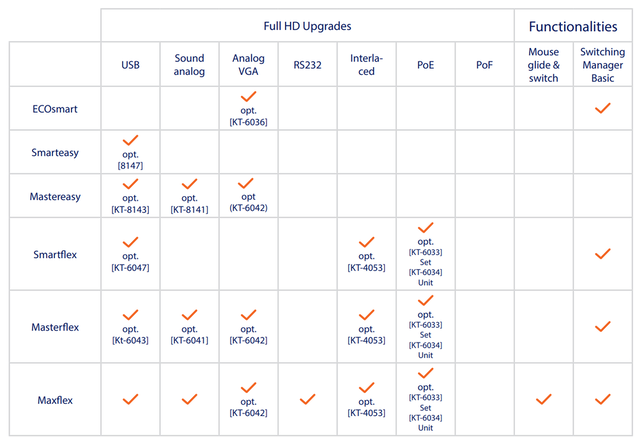 CASE STUDY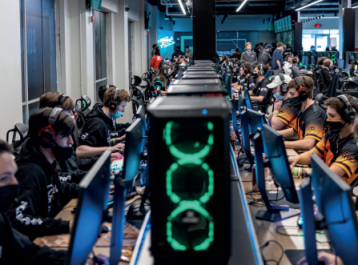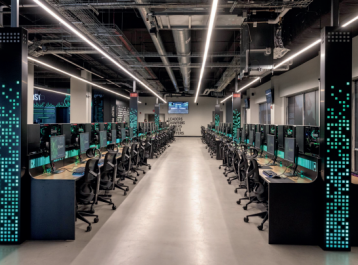 Next : BBC Studioworks selects KVM-TEC for Happy Graphics
BECK TV installs KVM-over-IP for Nerd Street Gamers
BeckTV was looking for a modern, high-performance IP- based KVM in combination with access to virtual machines to create a matrix switching system. It was important for Nerd Street Gamers to broadcast the video feed to all viewers on the campus and enable seamless switching.
CASE STUDY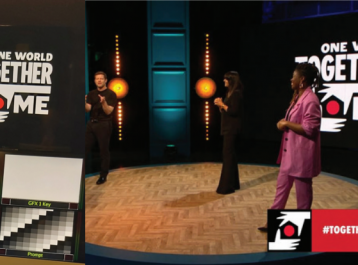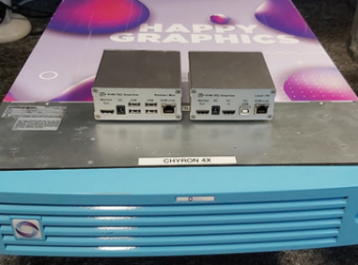 Next : BECK TV installs KVM-over-IP for Nerd Street Gamers
BBC Studioworks selects KVM-TEC for Happy Graphics
The objective was to allow the Graphics operator and system to be in separate parts of the Studios, KVM-TEC Smartline SVX1 KVM's were used. These are the best KVMs for ChyronHego graphics systems to allow operators to view the HDMI canvas outputs and add new content via USB memory sticks.
Downloads