Draco Tera Compact
KVM matrix switch with 8 - 80 Ports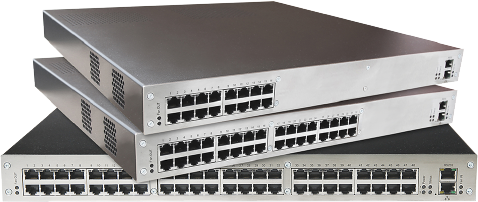 Instant HD & 4K UHD switching
For small & mid-sized KVM needs
Redundancy for critical applications
Cost-effective, small footprint package
Redundant PSUs
8, 16, 32, 48, 64 or 80 ports
Link multiple chassis in a Matrix Grid
Integrated management system
Simple to set-up & configure
The Draco Tera Compact by IHSE has been specifically designed for small to mid-sized KVM requirements but uses the same technology found in their enterprise-level matrix systems.

It enables switching between computers and remote consoles – keyboard, mouse, monitor and other peripherals – and is available with both CATx or Fibre ports in 8, 16, 32, 48, 64 or 80-port switch sizes.

Both the 64 and 80-port chassis switches are available as hybrid versions, for example 48 CATx ports and 16/32 fibre ports and Draco's unique Flex-Port technology offers huge time-saving benefits for system installers by negating the need to pre-configure input and output ports to specific I/O requirements.

Fibre-optic ports allows data transfer up to 10km either side of the matrix, perfect for inter-building connections and each computer can be quickly assessed from any position, via keyboard, on-screen display (OSD), the Draco Tera Tool or an ethernet or serial interface.

Each port on the Draco Tera Compact must be connected to an IHSE digital KVM extender module. Extenders are available to suit nearly all combinations of common video and data interfaces.

At a glance features
Compact size 1RU or 2RU
Port connections for CATx, fibre and coaxial
Flex-Port technology for dynamic port assignment (no need to refer to port numbers)
Mix & Match (fibre ports switchable to CATx ports and vice-versa)
Matrix Grid feature automates multi-matrix connections through tie lines
Java-based Tera Tool for remote configuration& maintenance
Multi-signal support: KVM, USB 2.0/3.0, SDI (SD/HD/3G)
Remote extenders can be updated through the matrix
Complete API for integration with media controllers
Multi-Screen Control feature (switching via mouse movement)
SNMP & Syslog monitoring
Redundant power supply
Support of full or part matrix redundancy
Intelligent management system replicates system settings across all components
Compatible with Draco Tera Enterprise
Downloads
Draco Tera Compact
Matrix Switch Documentation
Draco Tera Compact
Matrix Switch Technology

Product Catalogue

Talk to us about your project on:
020 8099 3089
or email:
sales@scene-double.co.uk