VUE/5363
USB and Video Extension over CATx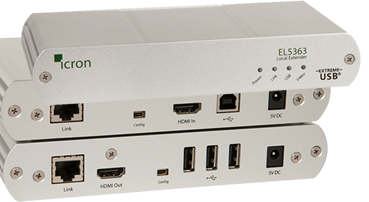 Uncompressed HDMI/DVI
1080p or 4K30 resolution
Latest ExtremeUSB technology
100m over CATx
USB 2.0 support up to 40Mbps
True plug and play
One of the industry's most flexible KVM extenders - designed by Icron, features the latest and most robust HD video and USB extension technology.

The VUE/5363 (EL5363) enables a computer to be located up to 100 metres from workstations using a single CATx cable with no video degradation, even at full distance. Features such as embedded audio, 4K30, Deep Colour and CEC/HDCP pass-through are fully supported.

Icron's patented ExtremeUSB technology provides full support for keyboards, mice, flash drives or other USB 2.0 and 1.1 devices. Applications include medical, imaging, pro-AV, high-end home theatre and interactive digital signage.

At a glance features
Point-to-point video and USB extension up to 100m over a single CATx cable
Full uncompressed HD / 4k30 video
36-bit colour depth / Deep Colour
No software drivers needed
Works with all major OS – Windows, OSX and Linux
Lip Sync and CEC Pass-through
Downloads
VUE/5363
Icron KVM Extender Documentation

Talk to us about your project on:
020 8099 3089
or email:
sales@scene-double.co.uk