USB 2.0 Extenders
Extender from Icron Technologies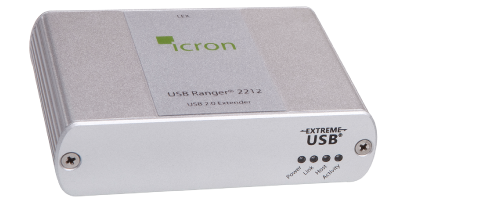 Extends USB 2.0 (to 480 Mbps)
Compatible with all major OS
ExtremeUSB technology
Extends over CATx or fibre
Compact footprint
Icron Technologies is the world's leading developer and manufacturer of high-performance USB and video extension solutions for commercial and industrial markets. With their patented ExtremeUSB® technology, the entire range of USB extenders offers customers reliable, world-class products.

The USB 2.0 Ranger offers a two/four port powered USB 2.0 extension solution, enabling remote robust connections at up to 480 Mbps over CATx or Fibre cabling. Ideal for use in any applications where USB devices must be remotely located. The Ranger is also an excellent companion product in basic KVM systems.

There are no software drivers – so it's easy to install and is compatible with all USB 2.0 devices and operating systems, it is durable with commercial grade, robust connections and casing and is available in a number of configurations.

These products can be integrated with IHSE Draco Tera matrix solutions.

At a glance features
Professional USB extension solution
Available with 2 or 4-Port remote hub
Extend over CATx (to 100m) or Fibre (to 10 km)
Flexible power options
Supports USB 2.0 devices up to 480 Mbps
No software drivers required
Works with all major operating systems
Downloads
Icron USB 2.0 Ranger Datasheets
USB Extender Documentation
Icron USB 2.0 Ranger Manuals
USB Extender Documentation

Talk to us about your project on:
+44 (0)20 8099 3089
or email:
sales@scene-double.co.uk