Draco Vario
Extend DVI, VGA, HDMI, DisplayPort or SDI up to 10 km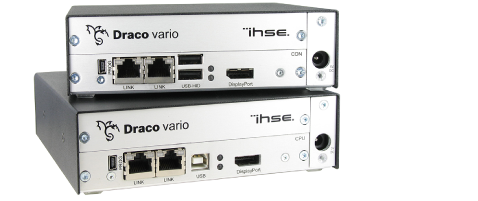 Modular product range
Multiple interface options
Choice of chassis sizes
Redundant link option
Single-sided connectivity
The modular Draco Vario KVM extender series has been designed by IHSE to support the most demanding needs of long distance KVM signal transmission for discerning clients, by offering unique and flexible distribution of KVM signals over CATx or fibre cabling.

Engineered for reliability and exceptional ultra high resolution image performance, the Draco Vario series uses IHSE's optimised compression technology to deliver visually lossless HD or 4K deep-colour digital video over extended distances.

The Draco Vario range takes flexibility to a new level. Choose from numerous interface combinations to specify an extender for your exact requirement. There's even a configurator tool to assist you!

Maximum extension distances are up to 140 metres away (CATx) or 10km (fibre) and, as with the entire range, the Draco Vario extenders may installed standalone, or fully integrated with Draco Tera matrix switches.

Designed to be integrated within Draco Tera matrix solutions.

At a glance features
Superior image quality at all resolutions
Totally modular: Specify Single or Multi-Head devices
DisplayPort, SDI, HDMI, DVI or VGA video interfaces
Dual-Link and Multi-Head options
USB 2.0, USB (HID), PS/2, Audio and Serial options
Optional redundant data links
Compact, Low-noise & Low-power
Various rack mount and PSU options
Designed for mission-critical environments
Copper (CATx) or Fibre link interfaces
Downloads

Talk to us about your project on:
020 8099 3089
or email:
sales@scene-double.co.uk